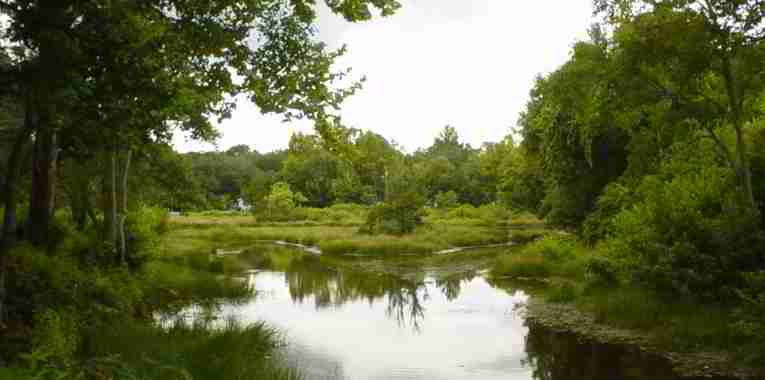 This recording is almost 74 minutes long and begins with a fade-in to a pond of happy Green Tree Frogs,

Hyla cinerea

. The recording goes through a series of peaks and lulls in their springtime chorus, and winds down with a lessening of activity as the evening wears on. It is in an urban setting, and when played on a quality stereo system (which it is worthy of), other sounds can be heard ... distant barking dogs, occasional passing cars, a bug or two, and a paper mill rumbling in the far distance. These extraneous sounds simply add to the experience. Try it with a good set of headphones to be completely involved. Or play it at a lower volume as a relaxing ambient sounds recording. Can be used as a pleasant sleep aid too. Some have speculated that Kermit the frog was modeled after this species of frog. I can see a resemblance.

The pond pictured is the actual pond where this recording was made.

This is an original nature sounds digital recording, recorded by me. It is from a high quality digital master made with some top notch equipment. You can listen to a brief sample in MP3 format here.
This recording is protected by copyright. environmental recordings, nature recordings, nature sounds, frogs, green tree frogs, metaphysical florida, ambient soundscape soundscapes, digitally mastered, sound effects, sfx, sleep aid, relaxing sound sounds
Here is what buyers have




said about this recording.



WOW! Frog lovers gotta have this one!
Great product, fast shipment, thanks
EXCELLENT

Thank you! I got my cd today. I love it!
Wonderful unique CD... much thanks!
LOVE THE CD.Thanks!
thanks nice cd

If your intended uses are noise masking, sleep aid or metaphysical, this MP3 will serve you just fine. It is available for immediate download, and is less expensive than the CD. You will receive an email with download instructions and have up to 48 hours to download the file. Only $5.00!

For best fidelity, you'll want the CD. It is not a mass produced CD... what you will receive is a hand labeled Maxell or Memorex CD-R in a slim case, mailed USPS First Class in a bubble pack envelope. Only $9.00, shipping included!

If delivery is to anywhere other than the USA, please use this second button, you will be charged an additional $2.00 to cover extra S&H. Total cost outside the USA is $11.00