Imagine relaxing on the front porch of your beach cottage at sunset, as a couple thunderstorms move through and the local population of green tree frogs begins it's evening chorus. With this soundscape you won't have to use quite as much imagination! This recording is a mix down of three of my other recordings, Cape San Blas Surf, Ultimate Thunderstorm and Green Tree Frogs, all available separately. There is NO music on this CD, other than nature's own.
Cape San Blas is a spit of land jutting into the Gulf of Mexico east of Panama
City, Florida ... between Port Saint Joe and Apalachicola. The day the recording was made, the surf was moderate. The shoreline was littered with shell shards which can be heard in the recording as waves wash ashore ... they sound at times almost like a wind chime as the shards are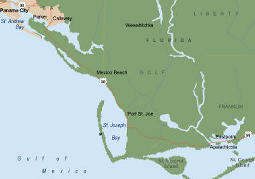 tossed onto each other by the incoming waves. A nearly constant sound is that of even smaller shards tumbling over each other and bubbles rising from the soft white sand as it is washed over. This is a 'white noise' type of sound that could be mistaken for tape hiss ... except that there is no tape involved in this audio train and the sound exists in reality. If you follow this sound you will notice it does ebb and flow after the waves.
You'll also hear periodic 'claps' as waves collapse at the shoreline, sometimes creating a distinct thud! As the evening wears on and the thunderstorms move out, the tree frogs become more prominent ... voicing their approval of the 'frog' weather!
You can listen to a brief sample here.
In this version, I've 'tamed down' the most violent thunder claps to produce a recording that would be better suited, perhaps, for relaxation, meditation and for use as a sleep aid. The original version,

Beach Storm with Frogs

, with full dynamic range is also available.
If your intended uses are noise masking, sleep aid or metaphysical, this MP3 will serve you just fine. It is available for immediate download, and is less expensive than the CD. You will receive an email with download instructions and have up to 48 hours to download the file. Only $5.00!

For best fidelity, you'll want the CD. It is not a mass produced CD... what you will receive is a hand labeled Maxell or Memorex CD-R in a slim case, mailed USPS First Class in a bubble pack envelope. Only $9.00, shipping included!

If delivery is to anywhere other than the USA, please use this second button, you will be charged an additional $2.00 to cover extra S&H. Total cost outside the USA is $11.00

since 200501141815