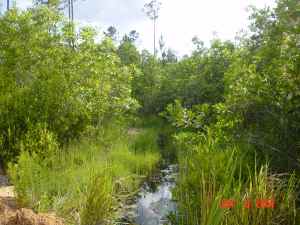 The scene is the edge of a bog in the Panhandle of Florida, just east of Panama City. The recording is more than 72 minutes long and continuous, with no cuts. It amazed me that I could accomplish this without being interrupted by a passing car ... but the time of day helped (from around 11 PM to quarter past midnight). So far as I have been able to determine, the only hint of humanity in this recording is one passenger jet at cruising altitude, which you will have to listen very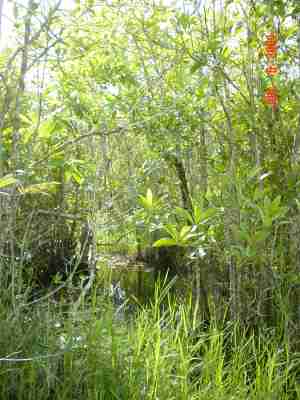 closely to detect.
What you will hear is at least three species of frogs, along with crickets, and a few tireless Chuck-will's-widows (Caprimulgus carolinensis).
You might also notice several splashes as frogs or fish disturb the water's surface, and a passing insect or two.

The "star" of this recording is a strange species of frog called a Pig Frog

(
Rana-grylio)
, commonly called bullfrogs in the South. It has a voice as bassy as a true bullfrog. Its call actually resembles a pig! And, in the recording you will notice there are a number of them at various distances from the microphone. The recording is 72 minutes in length.

The photographs on this page were taken at the recording location on the following day (as I said, the recording was made in the middle of the night). When I went back the next afternoon to take the photos, the strange 'pig frogs'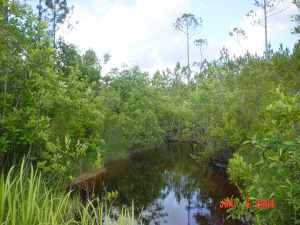 were still vocalizing .. although the other critters were not.
If you click on the small images, a new window will open with larger images. Just close those windows when you're done viewing.

This is an original nature sounds digital recording, recorded by me. It is from a high quality digital master made with some top notch equipment. You can listen to a brief sample here. The sample is in mp3 format and is, of course, lower quality than the CD you will receive.

This recording could have many uses: ambient sounds, sleep aid, metaphysical, and my favorite ... enjoyment of environmental recordings, just because we like 'em.
Read more about barking tree frogs, southern cricket frogs, and the stars of this recording ... the pig frogs.

This recording is protected by copyright.

environmental recordings nature recordings nature sounds florida frogs metaphysical metaphysics ambient sounds digitally mastered digital bog swamp bugs mastering ambient soundscapes sound effects sfx
What some buyers have




said about this recording.



Great Product, as advertised, no hassales will buy from again A++ seller Thanks
GOOD TO DO BUSINESS. WITH C D VERY NICE. CAN"T STOP PLAYING
Better than 99% 0f Ambient Albums.Melodic-Amazing Frogs! Highly RECOMMENDED!

GREAT CD!!! AND FAST SHIPPER!!! 100% SATISFIED!!

A Double Thumbs Up Five Star Monkey Slide Dance! WOOHOO! ! ! ! !

If your intended uses are noise masking, sleep aid or metaphysical, this MP3 will serve you just fine. It is available for immediate download, and is less expensive than the CD. You will receive an email with download instructions and have up to 48 hours to download the file. Only $5.00!

For best fidelity, you'll want the CD. It is not a mass produced CD... what you will receive is a hand labeled Maxell or Memorex CD-R in a slim case, mailed USPS First Class in a bubble pack envelope. Only $9.00, shipping included!

If delivery is to anywhere other than the USA, please use this second button, you will be charged an additional $2.00 to cover extra S&H. Total cost outside the USA is $11.00